Driving Ambition began in Portland, Oregon in the 1980's as a division of Faspec British Cars, catering to the needs of the unique and exotic vehicle owner. Resurrected in 2006, Driving Ambition still maintains it's motto of "Excellence in Automotive Products and Service" at our new, state-of-the-art facility near Sacramento. With a long history of preparing vehicles for amateur and professional racing we have the expertise to provide you with the ultimate in performance parts and service for your street machine.
Please tour our website so you can see our facilities, meet our employees and view the parts and services we offer.
The Driving Ambition Team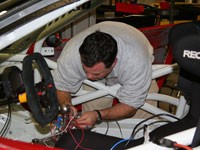 Shad Huntley -- Shad's father, Stan, founded Driving Ambition/Faspec, and inspired the auto racing passion in his son at an early age. As a teen, with sponsorship from Driving Ambition, Shad won 4 IKF Karting Championships, becoming a registered "EXPERT" along with fellow drivers Scott Pruett, Mark Dismore, Jamie McMurray and the late Greg Moore. After graduating with honors from Wyoming Technical Institute Shad began his career as mechanic with long-time family friends Doug Peterson and Don Erb of Comptech Machine and their championship-winning IMSA Camel Lights Acura. After 3 seasons of domination the team headed to open-wheel racing in the CART series where Shad became the youngest Chief Mechanic ever and, in 1997 was named Chief Mechanic of the Year while heading the Carl Hogan team with rookie driver Dario Franchitti. Later that year, Shad decided to lend his technical expertise to Comptech as director of product development of their race-inspired performance parts for Acura and Honda.